Connected Health » Features, Fitness Gadgets, Mobile Phone Apps » CHRISTMAS GIFT GUIDE: 20 Gadgets, accessories & games for fitness fanatics – Part One
Every week we come across all kinds of weird and wonderful health and fitness gadgets, from Jawbone's UP bracelet which tracks everything you do, to the ear lighting system Valkee, which stops you getting down in the winter months.
We'd argue that nothing can beat a pair of good trainers and the open road, but fitness gadgets, accessories and games can make brilliant (and super thoughtful) gifts, whether it'll help a loved one feel more motivated, give them a way to track their work outs or just equip them with a fancy new gadget to accompany their run.
You can also check out our list of health and fitness apps for the iPhone too.
1. UP by Jawbone
We first heard about Jawbone's UP bracelet earlier in the year and we were very excited to see it officially launched in November.
Basically UP tracks EVERYTHING you do, from the calories you've burned and the steps you've taken throughout the day to the amount of deep sleep you've had and the meals you've eaten. There are then many different ways to record all of that data, share it with your contacts if you'd like and even set yourself goals for the future.
The bracelet and app don't just track your activity either, you can set yourself reminders and even a morning alarm, which means the bracelet gently vibrates on your wrist.
When it comes to the bracelet itself, it's been specially designed to be as comfortable as possible throughout the day, it's durable, light,
sweat-proof, water resistant and comes in a few different colours. It speaks to the app via an audio jack hidden at the end under a little cap.
Obviously it'd be great if it didn't require you to hook them together like that manually, but the bracelet's not that clever. Not yet anyway.
The UP would make an ideal gift for those who want to eat better, those who want to track their exercise or just anyone interested in their personal well-being. Available from the Apple Store for £79.95 and you can choose between a large or small bracelet so it's not going to irritate you.
"
2. Cresyn C220E Orange Earhook Sports Headphones
Designed especially for athletic types, these Cresyn sports headphones have a clever ergonomic design, which ensures they fit well and are super comfortable for long periods of time. They're extreme enough for the most intense work-outs too, as they\'re water and sweat resistant, so don't worry about pushing yourself that extra mile.
As well as being tough and sporty, the headphones also deliver good sound quality for such a small price and Cresyn is the biggest selling audio brand in South Korea, which is quite an achievement!
Ideal for gift buyers on a tight budget who need something cool and functional for their fitness fanatic friend.
Available from iheadphones for only £7.99, and they also come in black.
'
3. Zumba Fitness Kit
Zumba seems to be a love-it-or-hate-it kind of activity, so if you've got a friend or relative who prefers dancing around latino-style to traditional work-outs, then this Zumba Fitness Kit would make an ideal present. It comes with six different work-outs on four separate DVDs, two special toning sticks and an easy to follow how-to guide. It'd also be ideal for Zumba newbies too, who\'d rather dance around their homes before taking an actual class.
Available from gizoo.co.uk for £49.95
'
4. Hydracoach intelligent water bottle
We all know that we should probably be drinking a few more glasses of water a day, but its hard to track how much you\'ve already had and how much you really need. Well, the Hydracoach Intelligent Water Bottle from Firebox is basically a very clever water bottle with a built-in computer, which tracks your intake of water whenever you take a sip. It also reminds you that you need to drink more if you haven't hit your recommended amount towards the end of the day.
Available from Firebox for £24.99
'
'
5. Fitbit
The Fitbit is a very similar concept to Jawbone's UP bracelet, but it's a different shape. It keeps a track of the steps you've taken, the calories you've eaten and the amount of deep sleep you've had. You can then track and monitor all of your progress online as the information is transferred wirelessly.
Unlike UP you don't need to wear the Fitbit on your wrist, but you can attach it to your clothing like you would with an old-school pedometer. You're encouraged to share your workouts and movements with other
applications and share everything with your friends on your social networks too.
Ideal for those interested in their personal wellbeing who get irritated just by the thought of wearing the UP bracelet all the time and need an equally intelligent alternative.
Available from Fitbit for $99.95. Unfortunately, you can only get the Fitbit in the US before Christmas, so either order it in advance or wait until it's launched in the UK in January
'
'
6. adidas miCoach Armband
This armband has been built especially for miCoach training. It's an ultra-lightweight performance nylon band, which wraps around your upper bicep and stays in place no matter how hard you workout. A sweat-proof touch-through screen cover also protects your device's screen and a hidden pocket keeps your house keys safe.
An ideal functional gift for runners. Available from Griffin for £24.99.
'
7. Withings Smart Blood Pressure Monitor

Granted this may not seem like a particularly jolly Christmas present, but if a loved one has problems with their blood pressure at least you know it'll come in handy. The Withings Smart Blood Pressure Monitor allows you to keep track of your blood pressure wherever you are. Simply wrap the sleeve around your arm and connect it up to your iPhone or iPod. You can then use the free Withings application to begin and the sleeve inflates and deflates to accurately measure your blood pressure.
You can keep track of all your results from within the free app and compare your readings with recommended World Health Organisation figures too.
Available from gizoo.co.uk for £119.95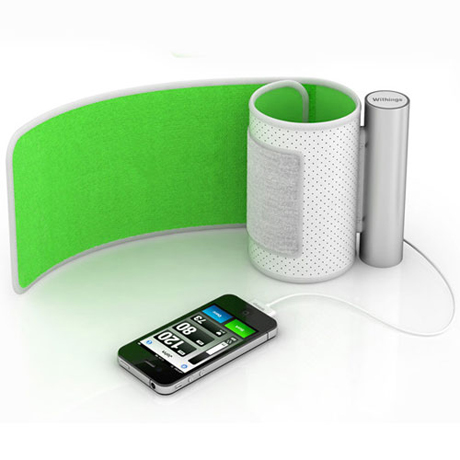 '
8. Beats by Dr. Dre PowerBeats with ControlTalk In-Ear Headphones from Monster
A slick set of in-ear headphones from the Beats range, designed especially with active people in mind. The headphones have the great sound quality you'd expect from the Dr. Dre endorsed range of products, but they come with an adjustable and
super bendable ear hook with a flexible arm too, so they stay put no matter how
fast you run, or how hard you work out.
Available from the Apple store for £119.95.',

'
9. Speedo Aquabeat
Why should those who prefer to swim rather than run have to do so in silence?! Speedo has designed an underwater MP3 player, which gives swimmers access to their favourite tunes. Some online reviews suggest that the earphones have a habit of floating out if you swim particularly fast, but we recommend a swimming cap to keep them securely in place. The device isn\'t just for underwater use either, it
sounds just as good out of the pool. An ideal gift for swimmers who seem to have it all.
Available from Speedo for £100.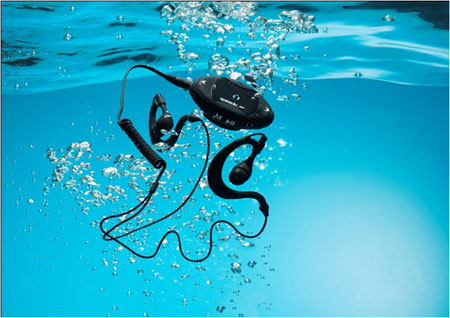 '
10. iPod Nano
It may not seem like a gadget solely built for fitness, but the latest reincarnation of the iPod Nano has a built-in accelerometer, which gives you real-time feedback about your work-out. Nike+ integration also means it\'s easier than ever to share data to the dedicated website, set yourself challenges and compete with your friends.
The strong
clip that keeps the Nano secured to your clothing also makes it ideal for athletic types
who need a reliable way to listen to music and track their work-outs.
Available from Apple for £115 in a range of colours.
'
'
Filed under: Features, Fitness Gadgets, Mobile Phone Apps